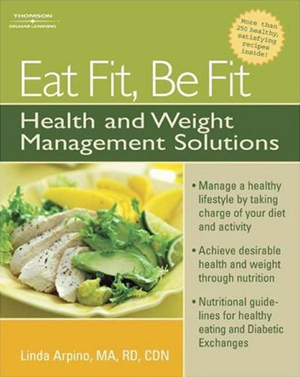 Free Shipping!
$28 Buy Now!
Eat Fit, Be Fit:
Health and Weight Management Solutions
by LInda Arpino, MA, RD, CDN
"Most diet books exploit the popular desire for a quick fix, trading away principles of healthful eating for promises of rapid weight loss. Promises that prove false as quickly as the weight is regained! What a rich, refreshing, and well-researched alternative Linda Arpino offers! In 'Eat Fit, Be Fit,' Linda serves up a veritable feast of information about eating well, and pursuing health, for a lifetime. I look forward to adding Linda's terrific book to my bookshelf and strongly recommend you do the same."
—David L. Katz, MD, MPH, FACPM, FACP
ABC News, Medical Contributor
O, Oprah Magazine, Nutrition Columnist
Yale University School of Medicine
Director, Prevention Research Center
Eat Fit, Be Fit has more than 300 delicious,
healthy recipes and guidelines to help readers:
Manage a healthy lifestyle by taking charge of your diet and activity
Become aware of the damaging effects habits throughout our society plays on health
Achieve desirable health and weight better nutritional balance
Use new nutrition and exercise guidelines to improve well being
Diabetic Exchanges to assist in portion control
Whether you are trying to lose weight, need recipes because of diabetes or high cholesterol or just want to boost your immune system to stay healthy, Eat Fit, Be Fit: Health and Weight Management Solutions, by Linda Arpino, MA, RD, CDN, is a practical easy-to-follow nutrition guide providing over 300 recipes. It helps families make the right food choices to reduce health risks. The focus of recipes are designed to to boost nutrient density, often lowering glycemic load(less blood sugar surges and drops), increase energy level, improve attention and help curb appetite. The powerful effects of plant based foods are emphasized. It also brings to forefront the need to look closer to lifestyle habits and need to slow down. It fusing delicious culinary delights with well-balanced menus.